With its multi benefits for skin here's why I'm a vitamin C fan
Vitamin C in skincare is one of those ingredients we routinely see advertised as good for us, but we may not be quite so sure why.
It's fair to say there isn't an overwhelming amount of clinical evidence out there to support the suggestion that using vitamin C topically has anti-aging benefits for our skin – but there is some.
L-ascorbic acid is the chemically active form of vitamin C and is the ingredient you'll often notice in skincare products and has the most evidence attached to it.
And while the best thing we can do to ensure the supply of nutrients to our skin and other parts of our body is to eat a diet that includes a diverse range of plant foods, the use of topical vitamin C could help ensure our skin has an adequate supply.
As with most things in life, it's thought the amount of vitamin C in our skin diminishes with age, with unprotected sun exposure, and is certainly diminished by smoking.
A small study carried out in 2008 by dermatologists on 10 patients found that when one side of their face was treated with a vitamin C complex that contained 10% ascorbic acid, at 12 weeks significant improvement in wrinkling and hydration was measured on the treated side of the face.
The dermatologists attributed the changes to biopsy evidence showing new collagen formation in the skin.
A 2017 research review assessing the potential of vitamin C for supporting skin health noted evidence that it can help inhibit melanin production thus fading dark spots and hyperpigmentation.
It also concluded vitamin C has protective potential against the harmful effects of UVA on our skin, with some dermatologists recommending you apply it morning and night.
Its antioxidant properties mean it has the potential to help partially stave off the negative effects of free radicals on our skin when we're exposed to environmental factors like cigarette smoke and pollution.
An excess of free radicals can trigger oxidative stress in our cells which causes damage and can accelerate the signs of aging.
Having emerged as the most evidenced source of topical vitamin C (preferably in a concentration of 10 – 20%), it's also important to note that L-ascorbic acid is unstable so it's best bought in a tinted glass bottle and kept out of the sun and ideally in the fridge.
Some studies have shown it is best used in combination with vitamin E.
Tetrahexyldecyl ascorbate is an L-ascorbic acid precursor with improved stability and so is also commonly used in vitamin C skincare products.
Ultimately skincare specialists are still divided on just how beneficial topical vitamin C can be for our skin, but dedicated enthusiasts – and I include myself in this category – will tell you the results in terms of skin brightening speak for themselves.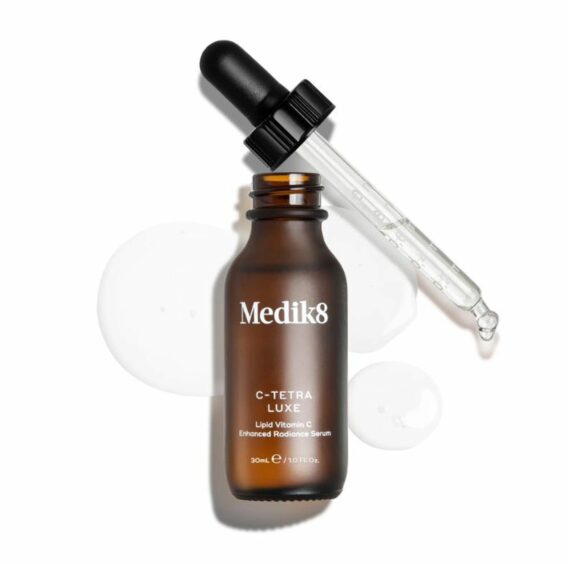 When it comes to the vitamin C serums that I use, I alternate between two gems. At the pricier end of the spectrum is Medik8's C-Tetra Luxe Vitamin C serum made with 14% tetrahexyldecyl ascorbate and including vitamin E, maracuja oil, ginseng, vitamin F, and squalene. A little of this luxurious serum does go a long way, and so it should at £59 for 30ml. You can buy it here.
At the other end of the spectrum one of my go-to brands Geek & Gorgeous do a basic but brilliant 15% ascorbic acid serum combined with ferulic acid and vitamin E. It's typically priced around £12 for 30ml. You can buy it here.
Links are affiliate.