'Skinflammaging' signs, causes and what to do
Among the buzzwords currently circulating around social media is 'inflammaging'.
It's used mainly to describe a state of low-grade chronic (ongoing) inflammation in our bodies that if left unresolved, could contribute to age-related diseases.
But it's also being used to describe the potential to accelerate the signs of aging in our skin through all the things that can contribute to inflammation in our bodies, including poor diet, lack of exercise, stress, not enough sleep and prolonged unprotected sun exposure.
In addition we can add in overly-aggressive skincare routines.
With so many products and devices out there designed to tackle the signs of aging it can be tempting to go all-out on your skin, whacking on a combination of potent serums and creams in combination with microcurrent, heat and energy-based treatments and so on.
But as with so many things in life, we are beginning to learn there is a delicate balance to be found between supporting your skin's natural microbiome and cellular activity, and over-stimulating it to create cellular stress , inflammation and a damaged skin barrier.
Signs of skinflammaging
How do you know if your skin is affected by inflammaging? Well, there are a few signs according to dermatologists.
Higher inflammation levels in the skin will accelerate a depletion in collagen, elastin and hyaluronic acid which all contribute to having plump, well-hydrated skin, so you could be experiencing dryness, seeing more fine lines and wrinkles and a loss of volume in your skin.
Inflammaging has also been linked with an overproduction of melanin which can cause age spots and uneven skin tone. It can also inhibit blood flow to the skin leading to it appearing dull with darker circles under your eyes.
Redness, irritation, blotchiness and broken blood vessels are other signs.
How to reverse it
Lifestyle clearly plays a big role and I'll take the opportunity again to say that sugar, and uncontrolled blood glucose levels, is a major contributor to inflammation along with processed foods.
So we can help ourselves out by hydrating with water, eating better, exercising, protecting our skin from significant sun exposure and trying to get a good night's sleep.
But stressed skin can use topical support too.
Dermatologists suggest that when your skin is showing signs of stress that you simplify your routine to focus on gentle ingredients that can help repair the skin barrier.
Antioxidants like vitamin C help defend the skin from oxidative stress caused by sun and pollution exposure, but should be applied with caution and I would pick a non-fragranced, uncomplicated formula.
Be cautious too, if your skin is showing signs of stress, about the use of retinoids, particularly the stronger versions including prescription tretinoin/retinoic acid, because while they can help speed up and regulate skin cell turnover, if they're too strong for your skin they can be inflammatory.
Similarly, you may want to go easy on the acid exfoliants as you figure out where the balance lies for your skin.
If you can simplify your routine, sticking to calming, soothing ingredients that ideally will include ceramides, believed to support skin barrier function and hydration, then you should see an improvement in your skin's health.
From there you can look to reintroduce a couple of your favorite skincare actives but being careful with the strength and frequency of use.
If you pay attention to the health of your skin, it will keep you right on what's working for it and what isn't.
My favorite repair products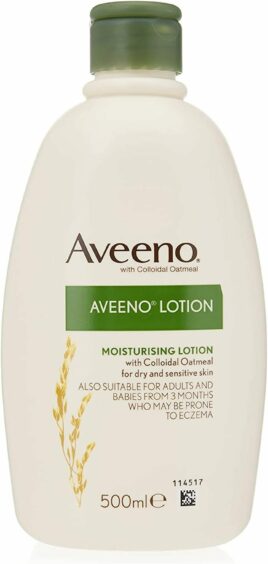 When it comes to skin barrier repair, there are few better moisturizers out there in my view than Aveeno.
Using oat kernal extract and colloidal oatmeal it is rich in antioxidants and contains a prebiotic to support your skin's microbiome. It's also naturally rich in ceramides. A doctor prescribed it for my kids' dermatitis when they were little after all else failed and it cleared it up within days. Simply brilliant stuff for stressed skin. 
Skinfix's Barrier + Triple Lipid Peptide Cream has, as the name suggests, been designed to help repair skin barrier damage, helping to restore lost lipids including ceramides and fatty acids.
I use affiliate links on my blog and on my channel which means I receive a small commission on any items bought using a URL I have shared. This revenue helps fund me to do what I do so if you choose to buy a product using one of my link sincere thanks for your support. 
.